In Focus
Webinar organized by SAWTEE Titled "LDC Graduation: What's next for Nepal?"
This webinar, organized by South Asia Watch on Trade, Economics and Environment (SAWTEE), aimed to bring together policymakers, representatives from the private sector, civil society, think tanks and academia to discuss the LDC graduation for a better and managed transition. The primary objectives of the webinar was to identify and develop consensus on the next steps for a smooth transition.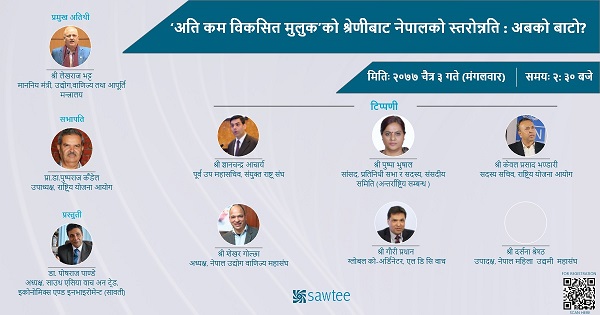 What might be the impacts of the graduation and the ways to minimize negative fallouts and maximize the benefits?
What should be the domestic policies for building productive capacity and structural transformation for sustainable graduation and strategies to mobilize the international support mechanisms during and after the transition period?